Preview O4eyes2C DVD Album
O4eyes2C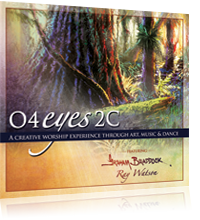 The O4eyes2C worship album invites us to draw near to our Creator with a fresh sense of wonder. With the trademark touch of intimate worship, it captures our longing to know Him more.
"I found the whole creative experience intriguing yet extremely peaceful and relaxing. It made me feel at rest and sense the presence of God... Ray's best work yet."
- Peter Robertson (Worship Ministries International)
To listen to the songs, use the player below.
Purchase quality mp3 files of the O4eyes2C DVD (These are audio files only.)
After your purchase, all of the following downloads will become available.
If you are downloading, you must click on the final link to receive your downloads.
Listen

Download

| | | | | | | | |
| --- | --- | --- | --- | --- | --- | --- | --- |
| O4eyes2C Intro | | mp3 | | | | | |
| Formless | | mp3 | | | | | |
| Dawn | | mp3 | | | | | |
| Creation Calls | | mp3 | | lyrics | | guitar chords | |
| You are good | | mp3 | | lyrics | | guitar chords | |
| I praise Your Wonderful Name | | mp3 | | lyrics | | guitar chords | |
| We thank You Lord | | mp3 | | lyrics | | guitar chords | |
| Majesty | | mp3 | | | | | |
| O4eyes2C | | mp3 | | lyrics | | guitar chords | |
| | | | | | | | |
| Zip File | | all files | | | | | |