Restoration

Songs of comfort and hope for our promised restoration

Check Out »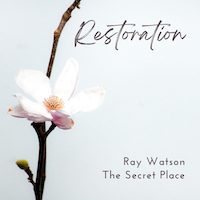 This album is a journey of comfort and hope.
It is my prayer that as you listen to these songs you will be encouraged to pursue Him and discover the joy of your own personal restoration.
To Purchase
Click Add to Cart on the item you wish to purchase. It will be added to your shopping cart. Your order will be processed securely through 2CO. Please provide correct billing address and email to ensure proper processing. You may change or cancel your order at any time. If you are downloading you must click on the final link to be taken to the downloads.
Listen
Purchase

Buy CD $14.98
Purchase the CD and have it shipped to your address.

Download Album $9.98
Download album mp3s with no shipping costs. Load to smartphone / CD / iPod / mp3 player. Preview

Download Sheet Music $9.98
Download the sheet music in pdf format. Includes bonus chord charts and lyrics. Preview
Album Information
The concept of a "restoration" album began about 10 years ago. I was sensing the need to create songs for people who were hurting and needed the love of the Father to restore their hope and bring healing. As time went on, the need for such an album became even more apparent. I began work on the songs in 2016, and during the COVID years was impressed to make this project a priority. Since 2016 it has been a labor of love of over 6 years in the making. But now, finally, I hope people can hear the heart of the Father in these songs.
I decided early on in the project to make it a journey of grace. Many people who listen to this album may have experienced disaster and turmoil in their lives and may not be so sure of God's goodness and love. Some may question, "Am I being judged by God? Did God do this?" No, God loves us, and paid the price for our deliverance. Jesus walked the valley of suffering for us and understands what we are going through. He wants to lead us to a place of restoration. If we journey with Him he will lift us up and give us hope.